Many people think of the month of February
as the month of love. We celebrate Valentine's Day and
emphasize the importance of having
someone special in our lives.
Yet there is One whose love for us knows no bounds.
Whose love 

for us 

is unconditional.
 Turn your hearts to God and Let Jesus be that someone special in your Life!
On Ash Wednesday, February 22, 2023,
we will begin our Lenten Journey as we are called to
"Repent, for the kingdom of heaven has come near." (Matthew 3:2)
We invite you to join us as we travel with Jesus on his journey to the cross, knowing that
"God proves his love for us in that while we still were sinners Christ died for us." (Romans 5:8)
Join Us for Worship on
Sunday, February 5, 2023,
at 9:00 AM
for Part II of Jesus' "Sermon on the Mount"
with readings from Matthew 5:13-20
Sunday Worship 9:00 AM
389 North Main Street
Salem, NH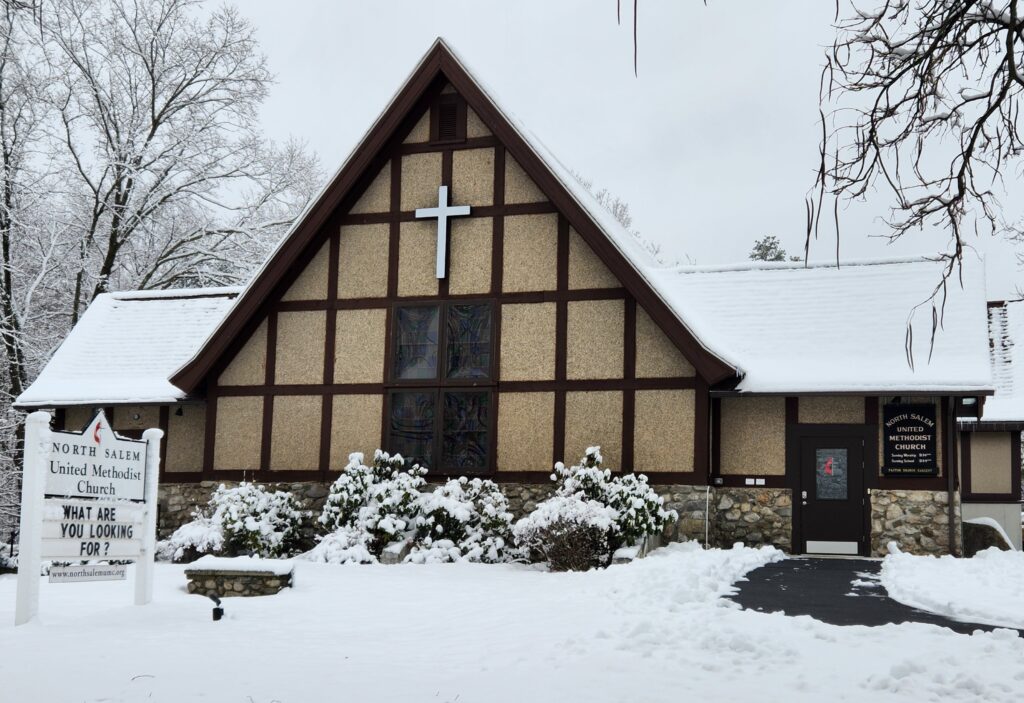 Welcome To The North Salem United Methodist Church
~~~
Here you will find a welcoming community of faithful folks dedicated to serving the Lord.
Located in Rockingham County, the church is situated near the towns of Atkinson, Hampstead, Derry, Londonderry, Windham, and Salem.
Tucked back from the road and graced by lovely Catalpa trees, English Tudor architecture gives this church a unique feel.
Inside, its stained glassed windows and oak-carved pews add beauty to the church's design.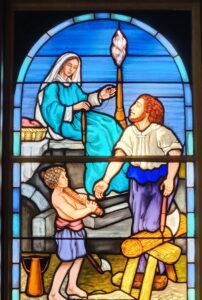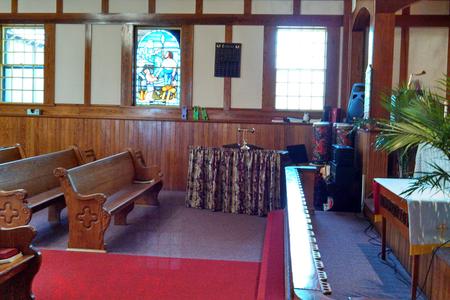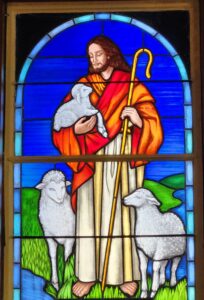 The stained-glass image of our Lord praying in the Garden of Gethsemane hangs above the altar. It serves to remind us that it is God's will, and not ours, that shall be done.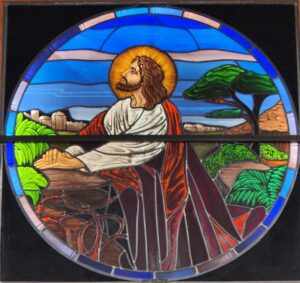 Called to be faithful followers of Jesus Christ, we seek to live into fulfilling the commandments to love God and to love one another.
"'You shall love the Lord your God with all your heart and with all your soul and with all your mind.' This is the greatest and first commandment. And a second is like it: 'You shall love your neighbor as yourself.' On these two commandments hang all the Law and the Prophets."  (Matthew 22:37-40, NRSV)
We invite you to join us for Worship, Bible/Book Studies, and to participate in the many activities happening at our church. We offer a fun-filled children's program with Sunday School too!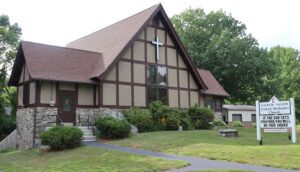 COME AS YOU ARE!
Many people choose to dress informally.
We welcome visitors from all Christian denominations to join us for worship followed by fellowship while enjoying coffee and snacks.
Each Sunday we come into the presence of our Lord to read from the Bible, listen to the message, sing traditional and contemporary hymns, and pray for healing.
"For where two or three are gathered in my name, I am there among them." (Matthew 18:20, NRSV)
HOLY COMMUNION
On the first Sunday of the month, we celebrate the Lord's Supper with an open table.
All who love Christ, earnestly repent of their sin, and seek to live in peace are welcome. Pure unfermented grape juice and unleavened bread are shared as we offer praise and thanksgiving to God.
ACCESSIBLITIY
Ample off-street parking is available for congregants and visitors alike. There is easy access without stairs to enter the sanctuary for worship. We hope you will join us!
~~~
To schedule a visit to our church anytime Monday - Saturday, we invite you to contact us at:
603-890-4985,
or via email at [email protected]
or through the website "Contact Us" button shown below.