OUTREACH & COMMUNITY
SUPPORT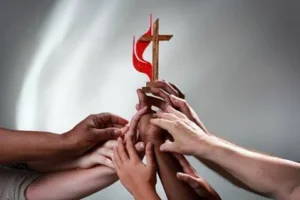 The North Salem United Methodist Church
is committed to serving those of its fellowship, the North Salem Community,
the people of Salem, and those far beyond.
"What good is it, my brothers and sisters,
if someone claims to have faith but has no deeds? 
Can such faith save them?
Suppose a brother or a sister is without clothes and daily food.
If one of you says to them, "Go in peace; keep warm and well fed,"
but does nothing about their physical needs, what good is it?
In the same way, faith by itself, if it is not accompanied by action, is dead."
(James 2:14-17)
We Serve One Another




by partnering with and supporting organizations in our local community,




by hosting programs at our church,




and through providing mission shares used to support




the Global and Regional Mission of The United Methodist Church.





Our Local Outreach Programs That We Support Include:
Food Collection for the Pleasant Street United Methodist Church Food Pantry.
(Our sister Methodist Church here in Salem, NH)
The North Salem Elementary School Where We
Provide Donations to Support their Fundraising Efforts
Collect Back-to-School Supplies, 
Provide Christmas Gifts for Families in Need
  A Discretionary Fund, The North Salem United Methodist Benevolence Ministry,
has been established for emergency situations
to be used as needed to help people
in our local community.
Members of the NSUMC are partnered with members of the Arlington Street UMC of Nashua, NH in working through WelcomeCorps (a refugee resettlement organization) to sponsor the resettlement of refugees from economic, political, and religious turmoil and persecutions. 
To assist in this vital mission of resettlement, please consider making a tax deductible donation to help the North Salem & Arlington Street UMC volunteers in accomplishing their mission-at-hand of assisting a Mideast Christian family in their quest to flee the religious persecution they now endure for their faith in Christ. Simply click on the button below to make a donation of any amount toward this effort. 100% of any donation goes completely to the resettlement of this family here in the United States.
********************************
**********************************
The NSUMC also participates and supports local community events such as SalemFest, the annual Salem Halloween Trunk & Treat, and other community events 
~~~
Be assured, The North Salem United Methodist Church seeks to reveal the Word of God by living the Word of God!
Come Join Us In Doing Both.