New England Conference & Granite District News
March 1, 2023
Bishop Peggy A. Johnson with members of United Women in Faith from Leominster (MA) UMC who led the service celebrating Anna Howard Shaw. From left, back: Belinda Scott, Ida Gray, Jana Harris; front: Bishop Johnson and Leeda Marsh. Photo courtesy of Bishop Johnson
Women's History Month
March is Women's History Month. It started as "Women's History Week" led by the Education Task Force of the Sonoma County (California) Commission on the Status of Women in 1978. The movement began to grow and it officially became national Women's History Week in 1980 by President Jimmy Carter's proclamation (womenshistory.org)
In 1987, the U.S. Congress passed Public Law 100-9, which designated March as Women's History Month. Since 1985 it has been an annual proclamation by the president, and each year the National Women's History Alliance chooses a theme. This year's theme is "Celebrating Women Who Tell Our Stories."
I would like to celebrate the Leominster UMC (Commonwealth West District), which tells the story of Anna Howard Shaw every year on the second Sunday of February — and they have been doing this for decades! I was privileged to take part in this year's celebration where members of the United Women in Faith conducted the service.
Rev. Anna Howard Shaw (1847-1919) was a pioneer for women's rights. She was born in England, and when she was 4 years old, her family immigrated to Lawrence, Massachusetts and later moved to Michigan. At the age of 15, she became a school teacher and also worked as a seamstress to help support her family.
Anna felt a call to preach at a young age and pursued higher education at Albion College in Albion, MI and then graduate school at Boston University School of Theology. She was the only woman in her class of 43 men. She was refused ordination by the Methodist Episcopal Church, but undeterred, she was ordained in the Methodist Protestant Church in 1880. She also received a medical degree from Boston University.
Rev. Anna Howard Shaw served a congregation for five years before going on to another kind of preaching: advocating for women's suffrage and promoting the Christian Temperance Union.
Her goal was "to work for women suffrage and then to use the ballot to gain 'home protection' and temperance legislation." She traveled extensively and lectured over 10,000 times for these causes.
The passage of the 19th Amendment to the U.S. Constitution, which gave women the right to vote, was largely due to her efforts and the many who worked with her. (wikapedia.org)
Her legacy continues at the Anna Howard Shaw Center at Boston University that exists to "promote structure and practices that empower women and honor diversity."
This month I encourage you to tell the story of the women of faith who have served God in important ways in your church and your community. Their example can inspire our young people to strive to do great things.
When you advocate for the rights of people who have no voice in this world, you are continuing the legacy of Anna Howard Shaw — and the long line of our Christian women forebears who sought justice.
Feb. 1, 2023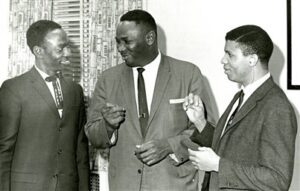 Rev. Andrew Foster, center, who was Deaf from childhood, developed schools for the Deaf across Africa in the late 1950s. Photo courtesy of the Gallaudet University Archives.
Black History Month
February is Black History Month, and this is an important opportunity for us as a nation and as a church to take a long look at our past and to use that understanding of our history to create a brighter future.
I would like to tell you about a very famous Black man who was also Deaf. Rev. Andrew Foster was born in 1925 in Ensley, Alabama; he became Deaf at the age of 11 from spinal meningitis.
In those days in Alabama, there were limited education opportunities for students who were Deaf. He moved to Michigan to live with relatives and attended the Michigan School for the Deaf, which provided education for Deaf students as far as the 8th grade. Foster continued his education by taking night classes and correspondence courses while working in restaurants and auto factories. Foster finally received his high school diploma at the age of 26.
He sought entrance to Gallaudet University (then Gallaudet College, an institution of higher education for people who are Deaf in Washington, DC) but was turned down several times because of his race. He was finally accepted and in 1954, became the first Black graduate in the school's history.
Foster, a fervent Christian, was ordained in the Baptist Church and felt a strong call to international missionary service. He established the "Christian Mission for the Deaf" in 1956 and spent time touring the United States and raising funds in order to establish Deaf Schools in Africa. Very few countries (only 12) on that continent at the time had any educational opportunities for children with hearing loss and few used sign language as a means of classroom instruction.
Finally, Rev. Foster arrived in Africa in 1957 and began establishing schools where there was a need. He met his wife, a German teacher of the Deaf, at the Third World Congress of the Deaf. They were married in 1961 and had four children. He and his wife went on to establish 32 schools and mission churches, which included some in countries that spoke French.
The couple also taught at these schools, preached at the churches, trained teachers, and educated the public about the need for education for Deaf students. Foster also helped to connect some of his school graduates to Gallaudet to pursue their education.
Rev. Foster received an honorary doctorate from his alma mater in 1970; there is a building at Gallaudet named for him. Sadly, he died in a plane crash in December 1987 enroute from Rwanda to Kenya as part of this ministry.
But his legacy lives on in the many schools and churches he established across Africa and the lives he touched along the way. I was one of them. I was privileged to hear him speak at the Urbana Missionary Conference in 1976. He stood on the stage and signed to the audience about the need for people to be in partnership in ministry with Deaf people. I remember being amazed at the time at his sign language and his passion for the souls of the people he wished to reach for Christ.
As a bishop in 2014, I traveled to the Democratic Republic of the Congo and attended the formal dedication of new United Methodist buildings in the East Congo Conference of The United Methodist Church. This country is French speaking, but what a surprise; all the Deaf people there knew American Sign Language, the language that Andrew Foster had brought to them years earlier. I was able to communicate with them easily, and I celebrated those seeds of Deaf education that had been planted years earlier and continued to blossom.
I thank God for Rev. Foster, and I want to remind you that mission work is vitally important. Seek opportunities to partner with international friends in reciprocal relationships. The United Methodist Church has a vitally strong presence in over 300 countries.
Have the spirit of Andrew Foster, who never gave up even though he experienced a great deal of discrimination and personal rejection in the United States and in Africa for being Black, for being Deaf, and for living in a cross-racial marriage. "Never be weary in well doing," as the Scriptures tell us, "for in due season we shall reap, if we do not lose heart … (Galatians 6:9)."
Finally, don't forget to celebrate Black History Month in your churches!
Reference: Visionary Leader - May 2014, Andrew Foster
Jan. 19, 2023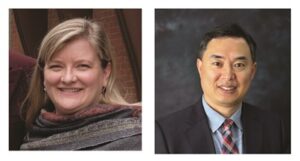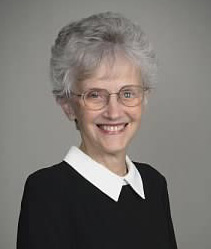 Cabinet Appointments
Rev. Jill Colley Robinson and Rev. Taesung Kang
Bishop Peggy A. Johnson is pleased to announce the following New England Conference Cabinet appointments that will be effective July 1, 2023.
After six years on the Cabinet, Rev. Taesung Kang, who serves as Granite District Superintendent, and Rev. Jill Colley Robinson, who serves as Green Mountain District Superintendent and Cabinet Dean, will have their appointments extended for another year.
"I am very grateful to Jill and Taesung for their willingness to continue as superintendents," said Bishop Johnson. "These are turbulent days for our conference and The United Methodist Church; having experienced leaders in place is critical as we navigate this time of change."
The Cabinet and the respective District Committees on Superintendency were delighted and grateful to receive the news of these continuing appointments.
"In our short time together, I have come to appreciate the deep faithfulness and exceptional dedication of these two servant leaders," Bishop Johnson said. "I know their districts are blessed by their leadership."
Kindly keep Rev. Kang and Rev. Colley Robinson, their families, the staff, leadership, and congregations of these districts in your prayers.